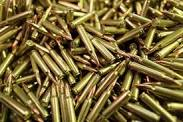 AMMO.  Any and all kinds will be worth their weight in gold.  The more common the caliber the more likely you will know somebody that wants to trade for what you have.  9mm, 22LR, 45 acp, 40s&w, 223/5.56, 308, 30-06 just to name a few…
Cigarettes, cigars, loose tobacco; supplies may be limited or altogether unavailable after whatever catastrophe has occurred, so tobacco products would become even more valuable than they already are. Tobacco doesn't keep forever, but properly stored loose tobacco, cigarettes or cigars can last several years.
Lighters, matches, and/or butane fuel; if electricity grids are down for an extended period of time, or permanently, fire will become integral to daily life. A stockpile of lighters, matches and particularly fuel for refilling lighters, can provide you with a good barter item should you need it.
Alcohol; in the form of beer, wine, and various hard liquors, alcohol ranks alongside tobacco for long-term popularity and usefulness as a trade and barter item. If you're so inclined, you could also learn to produce alcoholic beverages, but that requires both the knowledge and supplies.
Older (pre-1964) US silver coins; from dimes and quarters to half-dollars and silver dollars, pre-1964 US coins are comprised of 90% silver content. Because of their various sizes and weights, old US coins are perfect for barter and trade in a post-SHTF scenario or after a major, debilitating disaster.
Non-GMO, organic or heirloom vegetable seeds. After things settle down following a disaster or serious collapse of civilization, farming will be a top priority for anyone who wants to survive. Having heirloom variety, non-GMO seeds is another way to ensure that you have something valuable to trade and barter with if you ever need it.
Sugar, salt, pepper, and other spices; many spices are quite affordable these days, but spices, sugar, even salt were much scarcer commodities traditionally.  Stocking up on these kitchen staples now can provide you with desirable commodities for trade or barter, as well as for use in your own cooking and meals.  Be careful with storing sugar.  if stored improperly, you will be left with a large block or an empty container after the bugs eat it…
Spare tools and basic hardware; think along the lines of hammers, saws, wrenches, nails, screws and other basic odds and ends. Even a few pairs of decent work gloves could prove to be a useful barter item, but nails, hammers and other basic tools will definitely be in high demand post-SHTF.